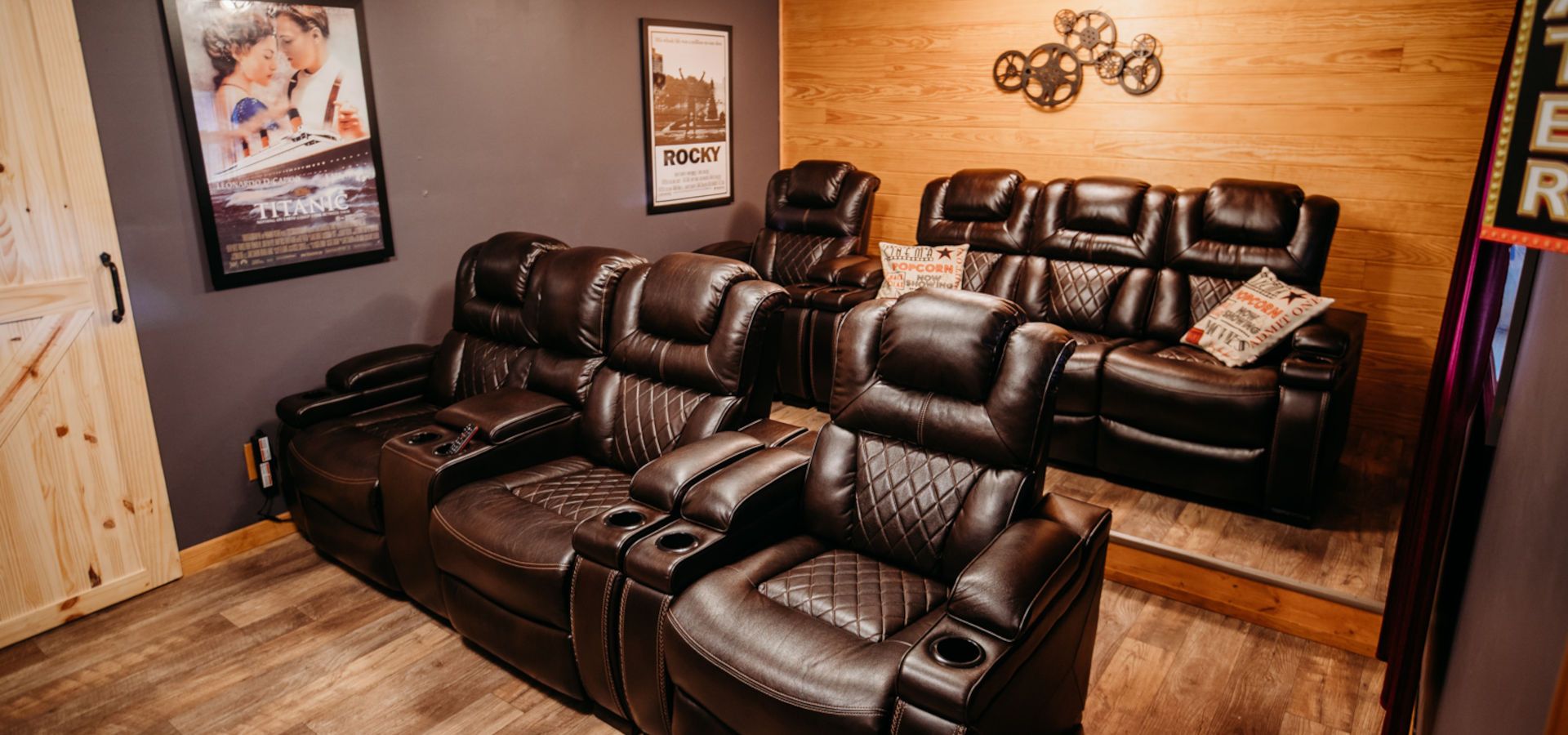 Policies & Rules of Occupancy
Office Hours
We would be delighted to answer any questions or take phone reservations from 9:00 AM - 8:00 PM Monday through Friday and from 9:00 AM - 3:00 PM Saturday and Sunday.
Check-In
Check in is between 4:00 PM - 6:00 PM. We ask that you call the office in the morning of your arrival day and we will provide you with the code to the back door at that time which will allow you entry into the cabin. We can answer any questions that you may have at that time. The keys to the cabin and pool gates will be on the kitchen counter when you arrive.

Check-Out
Check out is no later than 11:00 AM.

There is no need to contact us to depart unless you wish to do so.
We cannot accommodate late check-outs.
Security Deposit
In addition to the reservation rates, we require a $500.00 security deposit. A hold will be placed on the credit card that is on file for this amount.

Security deposits are typically released within 3 business days after your departure date. The security deposit will be conditionally but happily refunded as long as there are no damages, missing items or excessive cleaning reported necessary from your stay.

.
Payments
An advance payment of at least 50% of your total reservation is required at the time the reservation is made.

The remaining balance is due no later than 30 days prior to your arrival date.
Any reservations that are made one year or more in advance only require 25% down, the remaining balance is due 30 days prior to your arrival date but can be paid at any time by sending us an email.
Any balance including the security deposit is due no less than 30 days prior to your reservation date.

Visa, MasterCard, Discover and American Express are all accepted for your reservation.

Cancellations
Due to our intimate size, any cancellation or change affects us significantly, therefore we adhere to the following cancellation policy.

Reservations canceled or changed more than 30 days prior to your arrival will receive your advance payment and security deposit, less a processing fee of
$50.00. There is no refund of any kind for cancellations less than 30 days prior to your arrival date.
There are no cancellations due to inclement weather.
Changes to your arrival or departure date are subject to our cancellation policy and a processing fee of $50.00.
Owner reserves the right to cancel a reservation at any time with the return of any prepaid fees.
We guarantee your reservation; therefore any cancellation or change must be made directly with the owner during regular office hours.
Confirmations
Your phone reservation is considered a confirmed reservation for Lonesome Holler Lodge at the time of your booking.

If you reserve using our online reservation system, we will contact you by phone within 24-48 hours to confirm and complete your reservation. If you do not hear from us within 48 hours of booking, please send an email with your reservation to hometownlodging@gmail.com
Damages
In the event of damage(s), we reserve the right to withhold all or part of your security deposit to pay for them.

If the repair of the damage(s) exceeds $500.00, we reserve the right to charge the credit card on file.
There is a minimum of $500.00 cleaning fee for smoking or vaping inside the lodge.
If any glass or remnants of glass is found outside, a $500.00 fee will be charged to the credit card on file.
A few rules to follow:
A valid ID matching the name on the reservation may be required upon check in. Guests staying may not exceed the maximum occupancy of the Lodge (15) without prior agreement with the owner.

No hunting, use of firearms, fireworks on property. Hunting will be done only on Wayne National Forest. All animal remains will be cleaned and left on Wayne National Forest.
No Smoking or Vaping inside the Lodge. Smoking and vaping in designated areas (front and back deck) only. No candle use on property.
Consumption of alcoholic beverages is limited to people of legal age. Illegal drug use or engaging in any other illegal activity is strictly prohibited and can/will result in immediate dismissal from the property WITHOUT refund.
Furniture may NOT be moved in or from Lodge or decks. All bedding must stay on the bed in which it was upon arrival. If this is not followed, a fee of $250.00 will be charged to reset the lodging.
Close and lock all doors prior to departure.
We have a NO GLASS policy that applies to all exterior areas of the property.
Pool and hot tub will be closed if glass is introduced.
Firewood can be purchased on site. You will only be charged for what you use.
Firewood from other areas may not be brought into Hocking County per county mandate.
ATV's, UTV's, dirt bikes, etc. are strictly prohibited. Trails are for foot traffic only.
NO PET policy. Violation will result in a $500.00 fee.
Fireplace: we turn off the gas fireplace from May - September. No roasting marshmallows or placing anything in the gas fireplace.
Swimming Pool and Hot Tubs contain shallow water. No diving allowed. No jumping from the decks or porch into the hot tub or pool area. (This could result in death and also damage to the hot tub). Excessive cleaning charge of $50 will be charged if the hot tub and/or swimming pool requires extra cleaning.
Please shower before entering the hot tub and/or swimming pool. No body lotions, soaps, fragrances, oils, bodily excrement etc. shall be allowed in the hot tub or swimming pool.
Bring your own floats and enjoy the sun. All toys and floating devices are to be used at your own risk.
All individuals, including pregnant women, and /or those under the influence of alcohol, and/or other prescription drugs shall use the hot tub and swimming pool at their own risk. Pregnant women, persons with diabetes, high blood pressure, sensitive skin or heart disease should not use the hot tub. Water temperature greater than 100 degrees F is not recommended.
No drinking or eating in the hot tub or pool.
Turn off jets and lights when exiting the hot tub, place cover on the hot tub when not in use. No sitting on the hot tub cover.
Lock gates to the pool area at all times. Lock the basement door when the hot tub and/or pool is not in use.
We do not rent our Lodge for after-prom, high school graduation, college formal, or fraternity/sorority parties. All events are subject to approval by owners prior to confirmation of a reservation.
We cannot accept reservations that create one-night openings during our "peak season". We do not allow check ins or check outs on holidays. If you submit a request where this occurs you may be asked to change it.
Wi-Fi: Please understand that you are in the country. While we have internet, It may be different than what you're used to in the city. Service cannot be guaranteed as an amenity.
Driving Conditions: The roads to and from our lodge and cabin are rural and are well maintained by the county, state and township. We regret we are unable to offer refunds due to severe weather.
Amenities: There may be times when appliances, hot tubs, swimming pool, fireplace, electronics and/or Wi-Fi malfunction. We strive to service & restore these amenities as quickly as possible. We are unable to provide any rental concession for time without these items. In addition, any other items that are outside of our control will not result in a refund or discount of any kind. We ask that you adhere to the guidelines and policies with regards to the use of amenities to allow them to function at peak efficiency. Failing to do so may result in damage & excessive cleaning fees